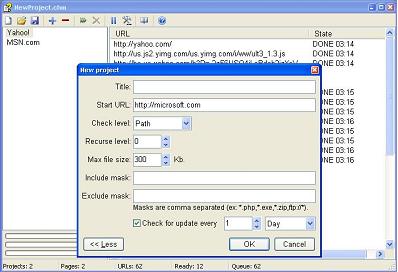 Do you have favorite websites you visit or want to visit regularly? No problem. Almost all browsers support bookmarking a page and thus accessing it easily. But what happens when you finally have a spare minute to read your favorite Web page and you don"t have Internet access (for example, you are using your laptop in a place where there is no Internet connection) or you are using a connection that charges you Internet usage by the minute? What if you only have a few minutes and can"t wait for the entire bookmarked site to load and search the entire site for new articles?
Offline browsers are the answer to such situations. They download websites to a local system for offline use.
But what do you do with this mess of information? How do you browse it? How do you search it? How can you automatically highlight updated articles of an e-zine or a blog?
LiveCHM is the answer. As its title suggests, it is a living CHM. Why CHM? Because this format allows downloading the entire Internet (assuming, of course, your hard drive space allows) into a single compressed file. Moreover, you will be able to browse this file on a PDA or a cellular phone (if this feature is supported). Why living? Because it automatically schedules content checks of the online website and downloads and highlights the updated pages. The content check is a short request that saves your traffic and Internet time.